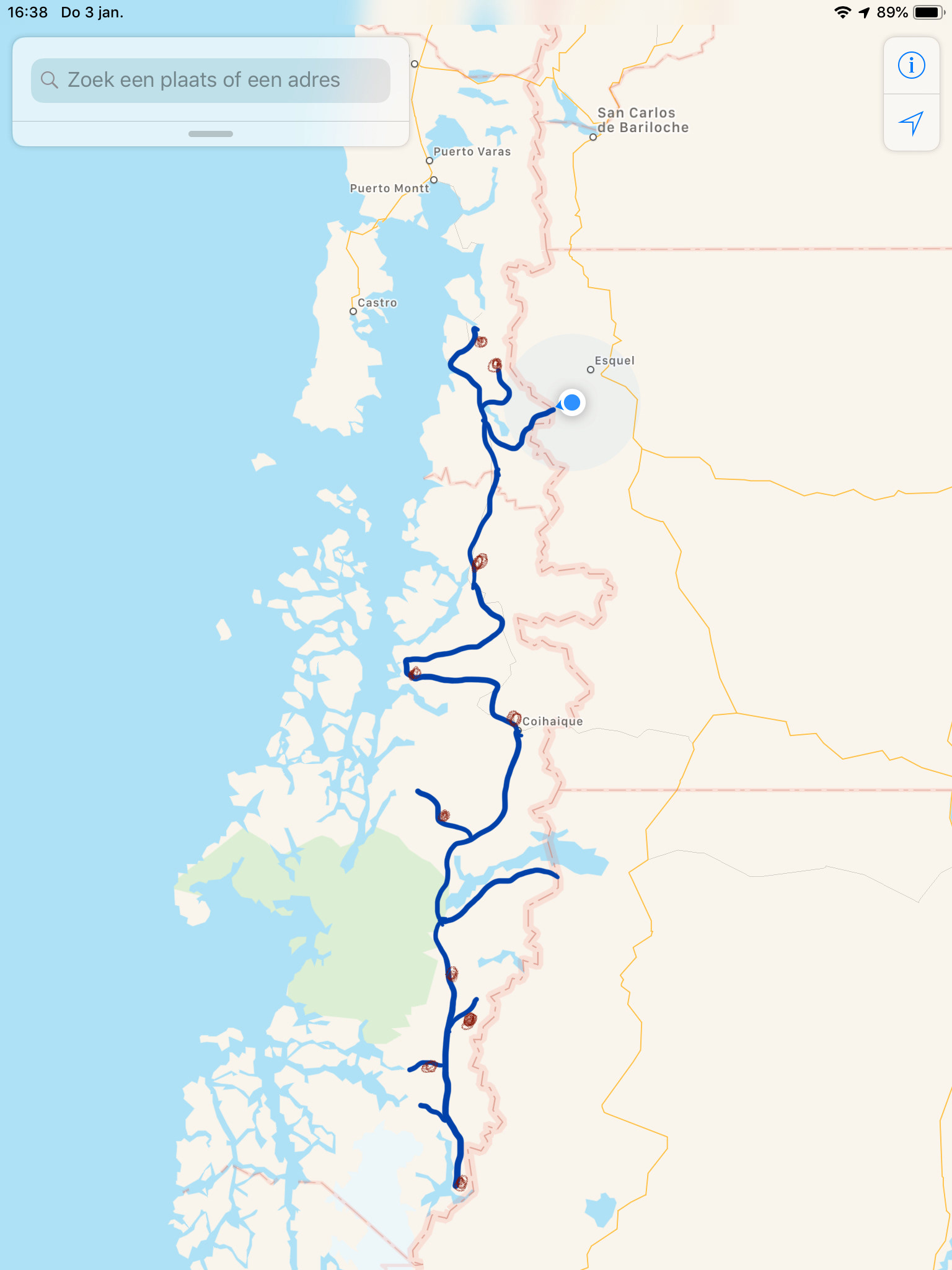 The main road is already very beautiful. When we go sideways we come to special places.
We have to stop abruptly when the road is 5 meters under water. Or are we suddenly on a farm and they do their best to let us stay overnight with them overnight. Well intended but after our "Raoul" experience we choose a place for ourselves.
From the vet in Argentina we get the tip to go to Catedrales de Marmol. So good as we are, we go there. Arriving it was a very touristy event including lifejackets and noisy South Americans. We look at it at a distance.
Back in Coyhaique we can have 2 flat tires. A screw in one and a nail in the other.
The adapter is now arrived. So we can get started with the photos and the much-requested blog. There is also a nice pile of laundry and the car can also be cleaned on the inside after the dirt road.
Before Christmas, First Matthieu and Gaia from Belgium arrived at the campsite. That promises to be a pleasant evening. Moments later, Anne-Marie and Heinz from Switzerland follow, later Stefan and Katerine from Germany. On the day of Christmas Eve we decide "last minute" to organize a Christmas Eve dinner together. Everyone is going to do the Christmas shopping with his shopping list. That we had not adjusted the drink properly turned out the next morning, 12 empty bottles of wine, bottle of gin and headache.
Needless to say, but it was one of the best Christmas abroad.
From Coyhaique we drive further north via Puerto Aysen and Puerto Cisnes. The roads here are asphalted but the surroundings are still very beautiful.
In Parque Pumalin we make various walks. Pumalin is a super nice park. The vegetation here is so different from what we have seen so far. And wet.
There was a huge landslide at La Junta last year. The landscape has been completely destroyed and many houses have been dragged along with the mud.
That way you get respect for nature.
Despite the bad weather we decided to head to the crater of the El Chaiten volcano, which erupted in 2008. After a climb of 600 meters we arrive at the crater. It is now raining ice water and the wind almost blows us into the crater. But nice ...